First snow: Camp Hill pic.twitter.com/89UxYb3KfC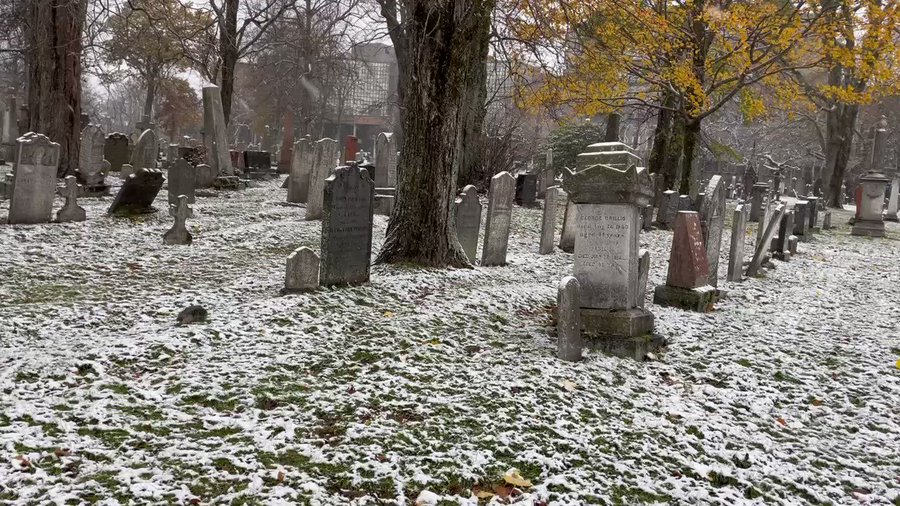 — Dead In Halifax (@deadinHalifax) November 24, 2021
I was idly surfing twitter this morning and almost proved that I was as much of a gonk as J says that I am.
I'd seen the above tweet and assumed that the cemetery shown was in Halifax in England and not Nova Scotia. (J's cousin lives near Halifax – the Yorkshire one – and I was going to show her the tweet and say something like "Oh look, Alison's got snow already".)
Fortunately, before I could make a gonk of myself, the cats yowled to be let in out of the rain, but that did lead me to the question of why do a lot of nineteenth century cemeteries all look the same?
The Melbourne General Cemetery in Carlton, the sprawling (and at the time I used to ride past on my bike on the way to the Uni, spookily overgrown) Hull General Cemetery, or even the absurdly photogenic Waverley cemetery overlooking the water in Sydney all share the same general layout of graves clustered together and over the top funeral monuments.
And of course, the answer, as with so much else, lies with the Victorians.
Prior to the Victorian period, most people in England were buried in churchyards associated with their local parish. Before religious toleration, everyone was nominally Anglican, so even if you were a Catholic or worse, a Methodist, you usually ended up in the local Anglican graveyard.
Sometimes the burial records recorded the faith of these nominal Anglicans as a comment but mostly they didn't. It's also important to remember that burial fees were an important component of an Anglican priest's income, especially if they were someone like Patrick Bronte who had no inherited wealth of his own, only a determination to succeed.
Doctrinal issues aside, as the population grew, especially in the large industrial cities of the Midlands and the North, the traditional graveyards began to overflow. There simply wasn't enough space in the existing burial grounds, and no way of expanding them, as urban graveyards were usually hemmed in by houses and factories.
The ever practical Victorians of course had an answer – buy a tract of land outside of an adjacent city and use that as a graveyard. And being practical people, the Victorians came up with plans to carefully segregate the Anglicans from the Catholics, the Methodists from the Presbyterians and so on in their own zones within the cemetery.
This is why you see groups of larger and more demonstrative grave monuments clustered together, simply because, in Australia at least, the Catholics and the Anglican preferred showier monuments to those preferred by the Presbyterians and Methodists.
Of course, population growth being what it was, and the general expansion of cities, many of these cemeteries originally on the edge of town are now well and truly in the city itself, if not exactly in the centre.
As such, they provide a valuable resource for local residents as somewhere to walk, a haven for wildlife, and a place for calm and contemplation, and we should celebrate them. After all the Victorians wouldn't have minded, a good middle class day out was a tour of the cemetery and an inspection of the graves of the great and the good…